How to Practice for a Spelling Bee Competition
How to Practice for a Spelling Bee Competition
How to Practice for a Spelling Bee Competition
Interactive Spelling Bee Practice
Parents and kids are always looking for fun ways to practice for spelling bee competitions, and we've got a great way for your child to practice and improve easily online. Traditionally, kids have used flashcards to memorize words. That can be part of your strategy, but why not take it up a notch by having a multisensory approach to practicing for your next spelling bee.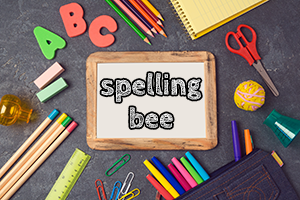 Spelling Bee Words
If you are looking for spelling bee words, we recommend first asking for a study list from the teacher, school or organizer of the bee. They sometimes have sets of words they like to use or might be able to steer you toward word lists from previous years at least. If they don't have a list for you to study, you can use our spelling lists as a starting point and then add custom lists to your account.
The awesome thing about Home Spelling Words is that it is so flexible. You can create your own lists to study from and use the practice section to see the word, hear the word and type it in, which helps you remember how to spell each word. In addition to that, you can use our Word Chopper game to whittle away at your lists. As you spell a word correctly, it gets removed from the spelling queue.
Getting to Know Your Words
For most students, practicing lists of common spelling bee words is where they start. Some students take it a step further to try to find patterns between words. Others learn more about the history or root of a word. Learning the etymology of the word can actually be a lot more interesting than you might think. It can also help you understand other similar words, even if you've never heard them before. Learning about a word's history might also help you remember how to spell it!
Steps to a Successful Spelling Bee
Memorize the words that might be asked in the spelling bee by using Home Spelling Words. We recommend the practice or spelling test sections of our website to get started. Then try our Word Chopper Game, Memory Game, or our other spelling games for kids. Tip: Have your student type in the lists to become more familiar with the words. We recommend lists of 10-15 words per list.
Have a friend or family member give you words to spell in a mock spelling bee style so you can get used to how it feels to spell out loud in front of people. Some kids get nervous on stage, so it is important to prepare for how it feels to be in the spotlight.
Enjoy the process of learning! Practicing for a spelling bee or other educational competitions can be a fun experience for students. If you enjoy the spelling bee, why not try a Geography Bee, a Chess Competition or perhaps a Science Bowl!
The Reading & Spelling Connection
Lastly, studying for a spelling bee competition is fun and challenging, but don't dismiss the value of reading. Reading on a daily basis helps your student become a better writer by helping them build vocabulary and spelling skills. Many modern jobs revolve around the ability to write well, and we want the next generation to have access to those high paying jobs. Moreover, students who take the SAT's, ACT's or other standardized exams will benefit from reading and building vocabulary.