Kindergarten Spelling Games | How Spelling Words
Kindergarten Spelling Games
Your kindergarten student will enjoy learning to spell using our fun kindergarten spelling games. All of our games are interactive and easy for your young student to play. You can use our lists or create your own. Try Crazy Fish where your student uses the shark to eat the surf board with the correctly spelled word. The Memory Game is another favorite. Your student can click on cards until they find the matches. This is a great way for students to start to learn and recognize letters. Herman's Mouse Maze lets your little one navigate through a maze and spell their way through the maze until they complete the maze to win.
Kindergarten Spelling Games
---
---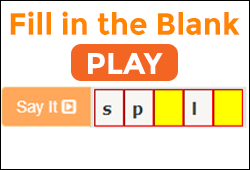 Fill in the Blank is one of our most popular spelling games. Fill in the missing letters until the all the words have been completed. It's a great way for student to think through letter sequences.
---
---
---
---
---
---